Line Dance Family Reunion
The cake was sliced and served. Hugs, kisses and well wishes abound. The time had come to celebrate a friends parting – moving on to the next phase of their life. This is a great time for all… and one that is starting to happen more and more frequently.
It was another happy / sad day. Time to say goodbye to longtime friends. They aren't going too far, yet will not be close enough to see them as often as we used to.
As our circle of dance family gets larger, and older, things change. Everyone has that plan.. When I retire I will ___________.
This is all good. We need to look forward, plan, work towards a brighter tomorrow and follow our hearts.
Some head North, some head South others move West. It is kind of hard to move east from Connecticut. 🙂 Well there is Rhode Island, but we can throw a rock and hit it from here… but I digress.
Getting back to the LDFR
We have had a great many friends follow their dreams. We love and support them. For all they do and all they stand for. This is what makes our dance family so freakin' awesome!
We do want to catch up with y'all once in a while. Unfortunately, our calendars fill up, days pass.. And we see each other less and less.
If we do not stop and schedule something, next thing you know it has been years without meeting up. Yeah, virtual hugs and "likes" just don't cut it.
There is one way to help slow that down a bit – Setup a yearly meeting of the family. A reunion of sorts. Since this is geared towards our dance family and the great relationships we have made, and will make anew – let us get together and celebrate. Celebrate life and all the opportunities it gives us.
This was the brain child of the Line Dance Family Reunion
Let's get together once a year to meet up, dance and have some fun.
The thought was pretty simple.. Let's visit someone that moved away and have them work with us to get a group together in their area. This allowed them to introduce us to their new location, new dance places and the many additions to our dance family.
We wanted this to be along the lines of a dance weekend – plus!
• Travel to different areas – not the same ole same ole every year.
• Add other fun and interesting things to do. Go-karts, ice cream, racing simulators, ice cream, dinner at a local joint, dance, ice cream… You get the idea.
• Scheduled, yet relaxed and fun.
• Ability to include local people as well as travelers to help grow our family.
So, buy now you are thinking "How do I get involved?"
Great question…
To go on dance reunion trip with us – head on over to Tammy's Website and check out the next offering:
https://tmbletstravel.com/?s=line+dance+family+reunion
If you want to host a location – join us for a weekend to see what is all about, then let us know!
Contact Dennis or Tammy
It's that easy… Tammy takes the time to research the destination and the local activities. Works with the host and sets up the events.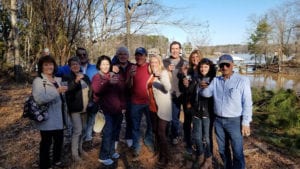 Our first Line Dance Family Reunion was in 2018. We headed over to South Carolina visiting Mike and Mary. This was a great time and a lot of fun. Even had the opportunity to get in a little Pasta & Poker as well! Went to some nice local restaurants (Bar-B-Q one night, German another). We visited the NASCAR Hall of Fame. Raced in simulators. Took in a City Tour of Charlotte…. Oh yeah, and danced a bunch too.
2019 will bring us to Sarasota Florida – very close to our good friends Ed and Diane. Looking to head over to Siesta Key Beach, visit the Ringling Museum, Barbecue picnic and a sunset cruise… Oh yeah, will be some dancing at the White Buffalo Saloon!
https://tmbletstravel.com/dance-vacation/line-dance-family-reunion-2019
2020 – Already in the works! Planning to head over towards Nashville… stay tuned!
Wishing you all Peace, Love and many wonderful years of dancing… wherever that may take you!
Dennis & Tammy